VCAP-DCV Deploy 7.0 experience
VCAP-DCV Deploy 7.0 experience
Today I sat the aforementioned exam: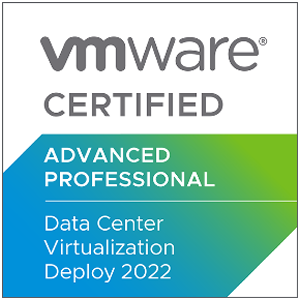 I did that fairly unprepared, hoping (maybe against hope) to pass based on (quite a lot of) experience in designing, deploying, and troubleshooting environments. I did check the Exam Guide: https://www.vmware.com/content/dam/digitalmarketing/vmware/en/pdf/certification/vmware-advanced-deploy-exam-guide.pdf and took a look at some of the preparation sites:
https://vmexplorer.com/2022/04/04/how-i-passed-vcap-dcv-deploy-2022-deploy-notes-and-thoughts/
https://michaelstoica.com/vcap-dcv-deploy-2021-exam-experience/
https://vcloudvision.com/2021/12/16/preparing-for-the-vcap-dcv-deploy-2021-exam/
and I especially liked Graham's Exam Simulator: https://virtualg.uk/vcap-dcv-deploy-2020-exam-simulator-free/ although that is related to version 6.
I didn't do all the tasks in the Exam Simulator (I did none ;)), but I looked them over to see if I would feel comfortable completing (most of) them when sitting a real exam. I thought I would be…
And for the ones I wasn't 100% sure, I looked at the solutions on the site and for one or two topics, I did some blog searches to get some additional insight (I checked out masking LUN's for instance :)).
So after all this preparation (I think a little over one hour in total), today I sat the exam. This was done from my home office (it is finally possible to take this one from home, since last week), so that was a little exciting.
I had done home exams before, but not a "deploy" exam. All in all, I was not disappointed. A couple of tips:
It helps tremendously to have a huge screen (mine is 38″ – WQHD+), even though the desktop you are working on, is not going over 1280*800 for resolution, it gives the opportunity to downscale your browser (80% for me, worked fine), so you can fit more text on your screen, without having to squint.
I had some neighbors that decided today was a good day to work outside, but that didn't bother me that much. But be aware that if you have bad luck, it could severely impact your ability to take the exam in a concentrated state (and that you do need).
Walk through the complete exam, before you start with the first question. Get a feel for the amount of work you have to do for each question.
Take your time reading the question thoroughly and determine your action plan before starting to click or type.
After you think you have done all that is needed, look through the question again, thoroughly, to see if you didn't miss anything.
If you hit an issue you don't know or can't solve directly, look for a few minutes, but move on (and make note of the question and the issue on your whiteboard). You can always come back later if time permits.
From a content perspective, I think it would be wise to know a couple of topics that you don't come across very often. For me, the use of Distributed Switches, vSAN, Host Profiles, and Advanced Settings for Hosts is very common. I have done enough deployments (both in test labs for my own knowledge gathering and in production) so that I can do those actions almost blindfolded, but other activities were a first for me (I don't want to give examples, to avoid giving out information about the exams and getting in trouble because of it :)).
All in all, I must say, I did like doing the exam. It did drain me, so at the end of the exam, with roughly 20 minutes to spare and still some open topics, that I saved up (1 major, 2 minor), I decided my mind was done, and I finished the exam. I knew that the remaining 20 minutes would not see me finish those open topics
And now we wait for the result (it should come within 48 hours). With a bit more hope than before the start, because I think I might have a good chance to have passed (although I hope this doesn't jinx it :)).
Update: At 2 AM on Saturday morning, while I was sleeping, I received the result and I am very happy with it. It's a pass: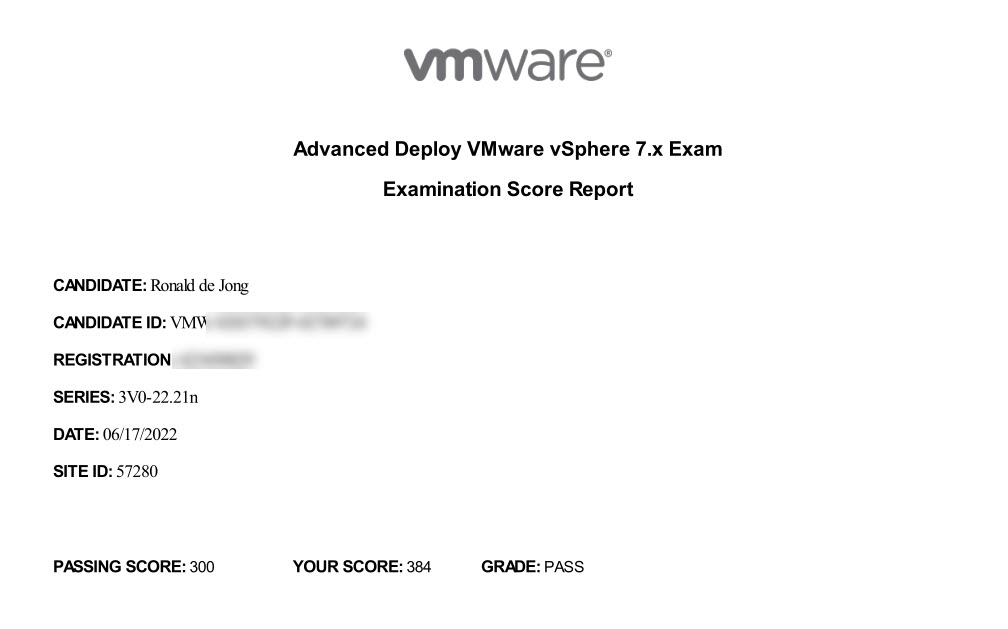 So that gives me the VCAP-DCV Deploy and subsequently the VCIX-DCV (I already held the VCAP-DCV Design). So Double-VCIX from now on :).
Please follow and like us: